Interesting places and facts about the city Benidorm in Spain
The world-famous resort town is located 140 kilometers from Valencia, on the coast of Spain near the Costa Blanca. Benidorm is compared to New York because of the large number of skyscrapers, and to Las Vegas due to a variety of restaurants, clubs and other nightlife. Benidorm is one of the best modern resorts in Spain. It is full of life day and night, local beaches, restaurants and nightclubs are always crowded. Foreign tourists and vacationers are attracted by well-groomed and equipped city streets, excellent climate, an abundance of entertainment and comfortable budget hotels.
Interesting Attractions
The Old Town and the New Town. Old city streets with a width of only 1 meter help travelers feel the atmosphere of the 17th-19th centuries. The Church of San Jaime and the ruins of the Torre Morales o Escaletes watchtower complement this feeling. The incredibly beautiful Cathedral of San Jaime stands out for its unique architecture, an abundance of valuable artifacts and ancient icons adorning its rooms.
Aigera Park is one of the most interesting sightseeing places in the city. Its design was developed by the world-famous architect Ricardo Bofill. Tourists who have visited this park have the opportunity to see the original flowerbeds and neatly trimmed decorative shrubs of various shapes.
Places to visit in Benidorm
The New Town hosts numerous dance events, there are noisy nightclubs, VIP restaurants, trendy shops and comfortable hotels. There is also a luxurious promenade with Playa de Levante Beach and 210 meters high Gran Hotel Bali.
Acualandia Water Park can be compared only with Disney Land in America. Being included in the list of the world's largest water parks, it covers an area of 160 thousand square meters accommodating water slides, pools, waterfall mazes, artificial geysers and so on. Terra Mitica is a theme park reflecting the ancient epochs of Rome and Greece, Egypt and Iberia, the mythical history of bygone peoples with their mystical life. Enjoy free guided tours to see Spanish cities and resorts located nearby with Blanket Trips. Vacationers who prefer active holidays can always participate in jeep safari, sailing races, go windsurfing and scuba diving or try their hand at water skiing.
4kwatro family park full of all kinds of entertainment for the whole family is the most visited tourist attraction in the city. Terra Natura is the park of flora and fauna filled with various animals from different equatorial zones. Here, tourists can do a bungee jump over the enclosures with elephants or lions.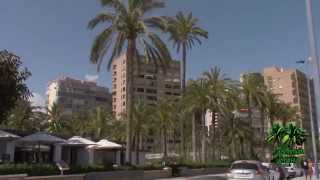 For gourmets
The Old Town gives the opportunity to visit the best restaurants serving Spanish, French, Dutch, English and Algerian cuisine. Here you can taste juicy steak, spicy salads or some French delicacies.
The New Town accommodates a large number of Chinese restaurants and various cafe-bars with homemade food.
There is no better place than Spice of Life Indian restaurant for a romantic dinner. Its chefs prepare amazing dishes according to ancient Indian recipes with the use various spices.
Book a hotel room or rent a car in Benidorm through our website https://scantri.com.com before starting your exciting journey!
You may be interested in visiting these cities
Paros

Paros Paros is one of the Cyclades island group, Greece. The pictureaque island with a mild Mediterranean climate, beautiful beaches and the gentle sea looks like a snow-white cloud. The main islanders' occupations are agricult...

Akureyri

Akureyri Akureyri is the business centre of Iceland, the largest fishing port. The town plays an important role in the country economic. This is a booming and green town. Comparing with other regions of the country, Akureyr...

Elche

Elche Elche is located in eastern Spain, 15 kilometers from the Mediterranean coast, in the province of Alicante. This small town occupying 326 square kilometers was founded in the fifth century BC by the tribes of Iberians. La...

Bodo

Bodo Bodo is a municipality in Norway, which is located to the north of the Arctic Circle. It is the second most populated locality in Northern Norway. It is famous for its hurricane winds, because it is located on a peninsula ...

Bloemfontein

Bloemfontein The official date of foundation of Bloemfontein is 1846. The population exceeds 300 thousand people. Blacks, who are currently over 70%, predominate, and this percentage is constantly increasing due to emigration o...