Interesting places and facts about the city Baku in Azerbaijan
Baku is often called Paris of the East, although the modern tourist will most likely compare this beautiful eastern capital with Dubai. The modern city of lights is famous for its skyscrapers and the wealth, which was given to the city by the oil industry. But the charm of Baku can't be hidden behind the cutting-edge sheath of the ancient city that holds many mysteries. Here, the modern architecture is amazingly combined with medieval buildings, filled with mysterious oriental flavor. Like any eastern city, Baku offers foreign tourists to go to the bustling bazaar in order to buy a handmade carpet or other traditional household items.
Attractions
Hurry up to complete all the works in the morning to admire the the futuristic "Flame Towers" in the evening. Today, the capital of Azerbaijan founded more than 1000 years ago attracts tourists with numerous unique attractions such as Gobustan and Absheron National Parks, Haji Gayib's bathhouse or the "Fire Temple of Baku".
Baku is completely surrounded by villages, which together with the city form the whole agglomeration. Most villages situated in the Caspian Sea area offer a sophisticated tourist own sanatoriums, resorts, spas, and lovely beaches. The special geographical location gave the hot city many sandy beaches with gentle slopes into the sea, so you'll have to go pretty far out to sea to get at greater depth. The most visited city beaches such as Barbados Beach, Sahil Beach or Palm Beach have a well-developed infrastructure. Here vacationers can find cabanas, umbrellas, sun beds, lockers, showers, toilets, and other amenities of civilization.
It is impossible to leave Baku without tasting traditional Azerbaijani dishes, which here are pursuing tourists from Europe, Asia and America at every turn. The hot city is full of cafes and inexpensive restaurants, which offer their guests a traditional shashlik, kebabs, famous kutaby and other meat dishes. If in addition to the delicious food you are looking for oriental service and authentic atmosphere, go to the old town, where you will find a number of restaurants, interesting for its interior and eastern hospitality. Depending on your taste preferences, here you will pay for you breakfast or dinner about 5-20 AZN.
In addition to traditional cuisine, Baku offers tourists a lot of European style cafe where you can order the usual bacon and eggs, croissants, pancakes, etc. If you're short on time, feel free to go for the shawarma - locals cook it fast and tasty. Turkish shawarma in Baku is even tastier than in Turkey! The city also has a few expensive nightclubs, bars and restaurants, where the skillful decoration of dishes, beautiful views, and European service demand from visitors for more money.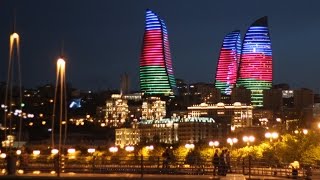 All the attractions of the capital of Azerbaijan can be divided into 3 types: The old city, Soviet period buildings, and modern Baku. The old city is the historical center, where began the history of the ancient city. The most interesting attraction here is considered to be the Maiden Tower, which previously was the main citadel of the fortress. At the same time locals call the Palace of the Shirvanshahs the jewel of Baku, which is a whole complex of buildings, which were used as intended by Shirvan rulers. You can end an eventful day in Baku in a comfortable hotels or cheap hostels, located at every step.
Attractions Baku on the map
airport
amusemebt park
aquarium
art gallery
atm
bakery
bank
bar
beauty salon
bicycle store
book store
bowling alley
bus station
cafe
campground
car dealer
car repair
car wash
casino
church
city hall
clothing store
courthouse
dentist
department store
doctor
electronics store
embassy
furniture store
gas station
grocery or supermarket
gym
hair care
hindu templet
hospital
jewelry store
laundry
library
liquor store
mosque
movie rental
movie theater
museum
night club
park
parking
pet store
pharmacy
physiotherapist
police
post office
real estate agency
restaurant
shoe store
shopping mall
spa
stadium
subway station
synagogue
train station
travel agency
university
veterinary care
zoo
You may be interested in visiting these cities
Vigo

Vigo Vigo is a port town located in the north-west of Spain. This place is attractive for tourists due to plenty of beaches, sights, preserved areas. Nearby is the archipelago of Islas Cíes, where you can visit the huge zoo. Vi...

Lafayette

Lafayette The town of Vermilionville was founded near the Vermillion River in 1821. It is here, in the southeast of the United States of America, many different cultures and peoples lived together side by side. French-Canadians...

Gaziantep

Gaziantep The city of Gaziantep shares borders with Syria and is located west of the Euphrates River. In ancient times, the city was called Antep. The resort town is surrounded by mountains and desert oases. Local nature is str...

Seinajoki

Seinajoki Seinajoki is the largest city and center of the South Ostrobothnia in Western Finland. Being a typical Finnish city with a population of 200 thousand people, it is located at the intersection of five railways and seve...

La Baule

La Baule La Baule-Escoublac, commonly referred to as La Baule, is a commune in the Loire-Atlantique department in western France. A century-old seaside resort in southern Brittany with beautiful villas, casino, luxury hotels an...